2008-09-16 17:43
Yeah, I've been distro hopping for a while. Especially recently, after Ubuntu started sucking. But anyway, I'm now on Arch.
Don't think I'll be checking out anything else for a long while. *Crosses fingers*
Here's my new desktop, Jay approved: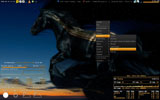 And here's two new pieces of art, thanks to my discovery of xournal!

Comment
Commenting is closed for this article.